---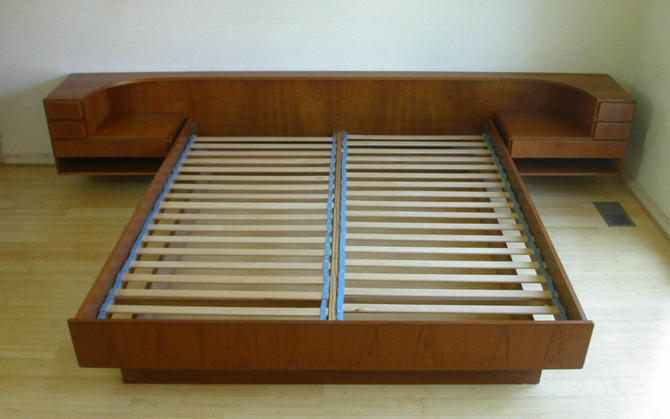 ---
Indexed February 11, 2018
California King Sz Danish Modern Teak King Platform Bed + Floating Nightstands By Komfort MCM Mid Century Eames by RetroSquad
$1,995.00 USD
More Photos & Availability
---
Additional Info
HQ Danish Modern Teak CALIFORNIA KING Sz Platform Bed + Floating Nightstands By Komfort of Denmark

High Quality manufacturing + Nightstands

RetroSquad
703 393 6898
"Always happy to entertain offers"

I only get 3 – 4 King size Danish platform beds each year and have only run across 2 or 3 California King size in OVER 10 YEARS. This size is RARE and hard to find in a vintage bed. If you have been looking for a vintage Danish platform bed in a California King size this is an opportunity you do not want to miss. Please call me to discus shipping and your needs

This is a stunning and well built Danish Modern platform / floating bed in high quality Teak. We have been selling vintage Danish furniture for over ten years and I have probably sold every model of Danish Bed that was imported into the USA. I am fully aware of the vast differences in quality between these platform beds from Denmark and I can confidently say that it will be hard to find this KOMFORT bed in better condition at any price. This is an exceptional bed of high quality and in near MINT condition.

I have sold a lot of Danish beds over the years and this one
is especially well made and in nearly MINT condition.

CONDITION: As stated above this well constructed bed is in exceptionally good, nearly MINT condition - just look at the photos. It is clean and spotless.

DIMENSIONS: Headboard is 124 Inches long and extends into the room apx. 85 Inches

DELIVERY: I can deliver to the DC, North Virginia and Baltimore area for FREE.

SHIPPING: I have developed a small network of trusted and insured independent truckers who specialize in the safe delivery of antique and collectable furniture. In some cases (depending on box size and distance) blanket wrapped delivery to your home by one of these truckers could be no more expensive than FedEx or Greyhound. These independent truckers offer VERY good pricing and I can usually get an item this size shipped to NYC for around $350 - $450. California is usually around $400 – $550. I can normally send a bed like this to Boston, Chicago, Detroit, Florida and as far west as Texas for around $350 – $450.

Shipping Times: While the shipping companies I use offer exceptional pricing and great service the delivery times are longer than more expensive companies. If delivery time is critical please give me a call to discuss shipping arrangements. I have also used Plycon with good results when time is critical.
---
---
---
---
---
More from this Store
36" Wide Tallboy Brazilian Rosewood Dresser By Arne Wahl Iversen for Vinde Storage Chest MCM Mid Century Eames by RetroSquad> RetroSquad Manassas, VA (VA 20109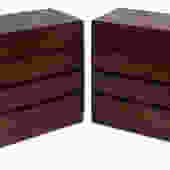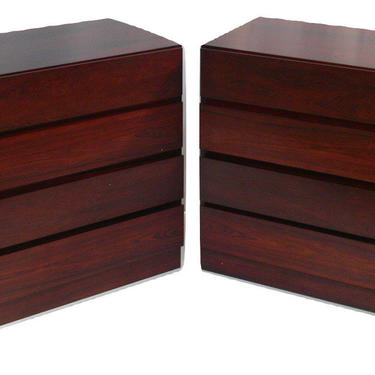 2 Danish Modern Short 36" Brazilian Rosewood Dresser By Arne Wahl Iversen for Vinde 2 Nightstands Storage Chest MCM Mid Century Eames by RetroSquad> RetroSquad Manassas, VA (VA 20109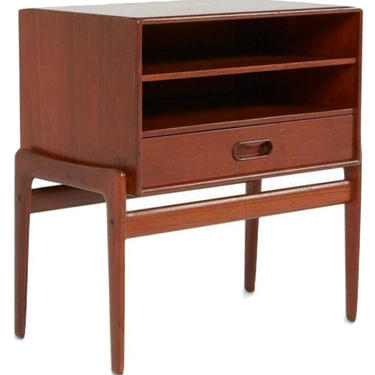 Pair Of Vintage Danish Modern Teak Nightstands / End Tables Designed By Arne Vodder for Vamo Sonderborg of Denmark > RetroSquad Manassas, VA (VA 20109
---
---