---
---
Indexed March 23, 2018
Pedersen & Hansen Large Lighted Teak Danish Modern Mid Century Wall Mirror MCM 60s by RetroSquad
$799.00 USD
More Photos & Availability
---
Additional Info
Pedersen & Hansen
Large Lighted Teak Danish Modern Mid Century Wall Mirror MCM 60s

RetroSquad
703 393 6898
"Always happy to entertain offers"

I have two of these in stock, but this ad / pricing is for only one mirror. This exquisite lighted mirror will be a great addition to any bedroom or entryway. The mirror was designed and built by Pederson & Hansen, a Danish company well know for its mirrors and other fine household accessories. This piece is defined by outstanding quality and craftsmanship. This is a sleek and clean design that will be a great addition to your home.

This larger mirror exemplifies simple Danish Modern design and is an accessory that is not easy to find. This would look absolutely stunning in any mid century hallway, entrance or bedroom. The frame and glass are both perfect without blemish, discoloration and flaking.

There are a total of four small light bulbs just behind the mirror. They can be accessed thought the gap that is between the mirror and external frame.

PRICING: The internet pricing of this mirror is a perfect example of the totally CRAZY vintage Danish furniture market. This exact same mirror can be found on the web priced at over 3K, 2K and other sites at over 1K. Do your own research and see for yourself. Over the years I have sold several of these in the $800 range and I currently have two in my warehouse. In the past few years I have run across local craigslist sellers who have found a high price on the web and tell me "These sell for 3K! No way will I sell for less than 2K". Fact is, the asking price on a web site IS NOT THE ACTUAL SELLING PRICE and that "asking price" does not set the fair market value. If these regally sold at 3K I would also be asking and expecting 3K. A crazy "asking price" DOES NOT determine the fair market value. The price that buyers are actually willing to pay sets the fair market price. If a high priced web seller was asking 10K, 30K or 100K, but the piece NEVER SELLS – is that the actually fair market value. I price my pieces based on actually past SELLING PRICES not an insane asking price found on the web. In addition to all that, some less than reputable dealers purposely list pieces at insanely high prices, not expecting them to ever sell at that price. They do this to artificially inflate the market and keep prices high. There are also potential buyers who honestly think that the items selling for over 3K on a high priced web site are somehow different, more authentic or better than the exact same piece priced less. Check out my feedback. We have been selling high quality, nearly mint, vintage Danish furnishings for over ten years. We price our pieces fairly and they actually sell.

Dimensions: 42.5" x 25.25" x 4.25"

DELIVERY: I can deliver to the Washington DC, N. Virginia and Baltimore areas FREE of charge.

SHIPPING: This could be shipped via FedEx or with one of my trusted and insured independent shippers who specialize in the safe delivery of antiques and collectable furniture. Either way, shipping should be reasonable. Please contact me to get an estimate.
---
---
---
---
---
More from this Store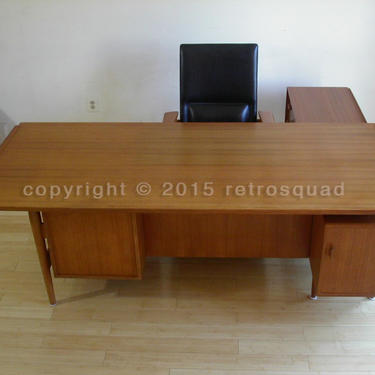 Danish Modern Teak Executive Desk by Arne Vodder for Sibast Mobelfabrik, Eames MCM Mid Century Knoll Herman MillerRosewood by RetroSquad> RetroSquad Manassas, VA (VA 20109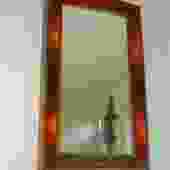 Pedersen & Hansen Large Lighted Teak Danish Modern Mid Century Wall Mirror MCM 60s by RetroSquad> RetroSquad Manassas, VA (VA 20109
36" Wide Tallboy Brazilian Rosewood Dresser By Arne Wahl Iversen for Vinde Storage Chest MCM Mid Century Eames by RetroSquad> RetroSquad Manassas, VA (VA 20109
---
---