---
---
Indexed June 27, 2018
Pair Of Vintage Danish Modern Teak Nightstands / End Tables Designed By Arne Vodder for Vamo Sonderborg of Denmark
$1,299.00 USD
More Photos & Availability
---
Additional Info
Pair (2) Of Vintage Danish Modern Teak Nightstands / End Tables Designed By Arne Vodder For Vamo Sonderborg of Denmark

Beautiful Vintage Teak with Wonderful Grain Patterns

RetroSquad
703 393 6898
"Always Happy to Entertain Offers"

This is an exceptional pair of NEAR MINT Nightstands / End Tables from the 1960s designed by Arne Vodder for Vamoorg Sonderborg of Denmark. The craftsmanship and materials on this pair of tables is EXCEPTIONAL and features dovetailed drawer joinery, solid teak construction and inset elliptical pulls all in a stylish compact size. For convenience, the drawers can placed into one of three sections. These tables are a fabulous example of high quality cabinetry and Scandinavian design.

The quality of these tables can be seen in the construction and materials used. Not all Danish furniture is created equal and there can be vast quality differences between items that look almost identical in eBay photos. I often pass on many items that other dealers in my area are happy to acquire and sell to unsuspecting web shoppers. I carry ONLY better made vintage Danish furniture designed to last a lifetime and will not sell flimsy low end Danish products.

The overall condition of the Teak is nearly perfect with almost no signs of wear. Nice solid construction and graceful modern design by a top-notch company – what more can you ask for?

CONDITION: These wonderful nightstands / end tables came from the original owners estate and are in very fine nearly perfect MINT condition with almost no signs of use.

DIMENSIONS: 20" High x 19" Wide x 12" Deep

DELIVERY: I can deliver to the DC, North Virginia and Baltimore area for FREE.

SHIPPING: These nightstands can be disassembled and shipped cost effectively via FedEx to any part of the country.

Shipping Times: Due to our fair pricing on pieces in exceptional condition I am swamped and it can be hard for me to pack and ship rapidly. If shipping times are critical please give me a call to discuss.

About Us: We have a 100% POSITIVE feedback rating and a 5 out of 5 star rating for "Item as described" and "Communication". Our ratings are actually higher than many of the TOP RATED dealers. We have over seven years of experience shipping and packing valuable collectable furniture and our items arrive at your door in perfect condition.

It is difficult for a vintage furniture dealer to achieve this level of feedback due to the size of the items, condition issues and delivery times involved. We do not always have the lowest priced items on eBay but you can rest assured that the sales process will be transparent and the item you receive will be "as described" and delivered by professionals.

In addition, we do not hide behind the anonymity of the web. If you have questions about an item, you can pick up the phone and call me to discuss them. My phone number is in our eBay listings and the office phone automatically forwards to my cell number if not answered.
---
---
---
---
---
More from this Store
36" Wide Tallboy Brazilian Rosewood Dresser By Arne Wahl Iversen for Vinde Storage Chest MCM Mid Century Eames by RetroSquad> RetroSquad Manassas, VA (VA 20109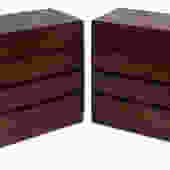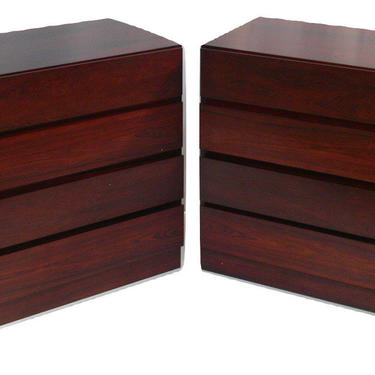 2 Danish Modern Short 36" Brazilian Rosewood Dresser By Arne Wahl Iversen for Vinde 2 Nightstands Storage Chest MCM Mid Century Eames by RetroSquad> RetroSquad Manassas, VA (VA 20109
Smaller Danish Modern Teak Writing Desk from Denmark With Tambour (Roll Top) Cover, SCAN Mid Century MCM by RetroSquad> RetroSquad Manassas, VA (VA 20109
---
---