---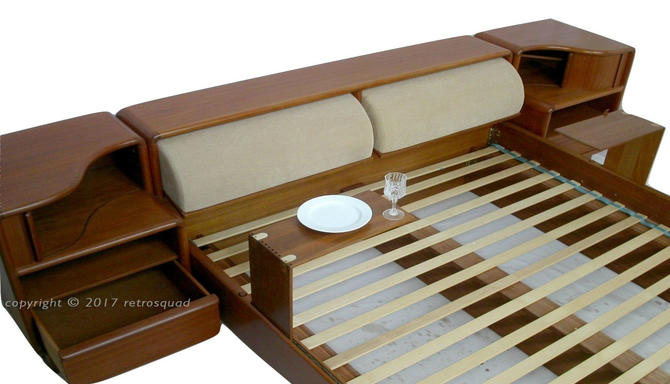 ---
Indexed May 31, 2018
Danish Modern TEAK Floating Platform Bed By Kibaek in King Size by RetroSquad
$3,499.00 USD
More Photos & Availability
---
Additional Info
Danish Modern TEAK Floating Platform Bed By Kibaek in King Size

RetroSquad is the nations largest dealer of vintage Danish beds


RetroSquad
703 393 6898
"Always happy to entertain offers"

I was almost speechless when I first discovered a Kibaek bed many years ago as they offer an unprecedented level of quality and unique features. Kibaek beds employ the heaviest construction methods I have ever seen (I can send you additional photos for review). The bed is actually "over built" and I would expect it to last SEVERAL lifetimes. It employs thick heavy boards and the lower platform sections and upper frame sections are permanently connected making for a heavy rock solid bed. That said, the bed can be fully disassembled for shipping.

While you may not be familiar with Kibaek, it is an exceptional Danish furniture company. I have had a number of beds and chest pieces from Kibaek and all have been of the absolute highest quality with no competition from any other manufacturer. I have also sold a number of Dyrlund and Torring pieces over the years and can confidently state that Kibaek is SUPERIOR to either of the other two companies in every aspect. This vintage TEAK bed is an amazing stand out piece that will bring you many complements.

In addition to the heaviest construction I have ever seen, this bed offers the following unique features -

+ MINT nearly new condition

+ Pillows that flip out from the headboard for sitting up in Bed to watch TV

+ Snack trays that can be pulled out of the side rails

+ Headboard is finished on the back so that the bed does not need to be placed against a wall.

+ Heaviest construction methods

+ Deep headboard provides a shelf for clock or magazines

+ Nightstands have tambour doors and tong & grove drawers

Headboard Pillows
The first time I examined a Kibaek bed I did not even know that the headboard concealed pillows. It was several days before I realized that pushing at the lower edge of the headboard panel would flip around exposing a pillow.

Snack Trays
The snack trays pull out of a thin slot on the side rails and lock securely into place. The solid brass hinges allow the flat board sections to fold creating a solid and steady tray surface. A button releases the tray so that it can be stowed back into the side rail.

This is the ultimate Rolls Royce of vintage Danish Beds

You will not be able to find another bed with the features and quality of a Kibaek bed because no other company has ever made something like this. This bed is not simply a step or two above the next best bed (Dyrlund or Torring) that I have ever sold, it is at the top of the staircase. Over the years I have sold nearly every model and make of vintage Danish bed imported into the USA. Over the years I have been happy to sell hundreds of very nice, well made beds from Denmark, but none exhibit the quality or features of a Kibaek bed. If the best Danish beds could be considered Cadillacs, Kibaek is most certainly a Rolls Royce!

If you have been looking for something in exceptional condition offering
unique features and exception quality – THIS IS IT!

Construction: Tight and solid, all original

Condition: MINT and nearly new. Almost no signs of use.

Queen Dimensions:
Headboard (no Nightstands): apx. 82.5" Long x 31" High x 10.5" Deep

Nightstands (each): 21.25" Long x 31" High x 19" Deep

Total Length of Headboard + Nightstands: 122"

Total External Length (from wall to foot-board): apx. 93"

External Side Height: 15.25"

Internal Side Height In Mattress Area: 5"

Top of Bed Slat (Bottom of Mattress) To Top Of Headboard: 20.25"

Internal Mattress Area: KING Size (80.75" x 78")

Bottom Of Mattress Rests 10.5" From Floor

Mattress Thickness: Best with mattress 10" - 12'" Thick to utilize built in pillow feature

Shipping: This item can be shipped blanket wrapped with one of my trusted independent truckers very reasonably. In most cases this item can go to NYC for about $450 - $550. Should be able to get this to Florida, Texas, Boston and Chicago for about the same amount. If you are in the California the cost will probably be $500+ but I might be able to get a little better deal.

Shipping Times: While the shipping companies I use offer exceptional pricing and great service the delivery times are longer than more expensive companies. If delivery time is critical please give me a call to discuss shipping arrangements. I have also used Plycon with good results when time is critical.
Please feel free to call (Chris 703 393 6898) or email if you would like to discuss this bed.

About Us:
We have a 100% POSITIVE feedback rating and a 5 out of 5 star rating for "Item as described" and "Communication". Our ratings are actually higher than many of the TOP RATED dealers. We have over seven years of experience shipping and packing valuable collectable furniture and our items arrive at your door in perfect condition.
It is difficult for a vintage furniture dealer to achieve this level of feedback due to the size of the items, condition issues and delivery times involved. We do not always have the lowest priced items on eBay but you can rest assured that the sales process will be transparent and the item you receive will be "as described" and delivered by professionals.
In addition, we do not hide behind the anonymity of the web. If you have questions about an item, you can pick up the phone and call me to discuss them. My phone number is in our eBay listings and the office phone automatically forwards to my cell number if not answered.
---
---
---
---
---
More from this Store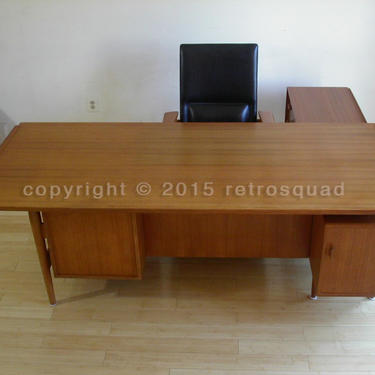 Danish Modern Teak Executive Desk by Arne Vodder for Sibast Mobelfabrik, Eames MCM Mid Century Knoll Herman MillerRosewood by RetroSquad> RetroSquad Manassas, VA (VA 20109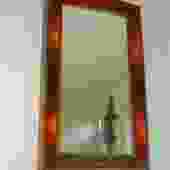 Pedersen & Hansen Large Lighted Teak Danish Modern Mid Century Wall Mirror MCM 60s by RetroSquad> RetroSquad Manassas, VA (VA 20109
36" Wide Tallboy Brazilian Rosewood Dresser By Arne Wahl Iversen for Vinde Storage Chest MCM Mid Century Eames by RetroSquad> RetroSquad Manassas, VA (VA 20109
---
---